SUPPORT FOR THE ESTABLISHMENT OF AN ISO 50001 ENERGY MANAGEMENT SYSTEM
ISO 50001 provides the guidelines to develop an orderly management of energy so as to focus on energy performance. A  management system that meets the requirements of this standard makes it possible to save energy and to reduce costs on the  short term.

Thus, in order to help enterprises belonging to the industrial and services sectors establish an ISO 50001 Energy  Management System (EnMS), the CITET proposes support programs that are ensured by specialized experts.

The support program will be carried out in 5 phases:
The support is based on a training-action approach, in such a way as to observe all the steps necessary for the  establishment of an ISO50001-compliant EnMSfor each participating enterprise, and, thus, to prepare for certification.    
The key steps of ISO 50001 support
The description of the different support steps is presented below:
Two evaluation missions of the support activities' progress status will be carried out as follows:

- An intermediary evaluation after phase 2;

- A final evaluation at the end of the support program.
At the end of support, an internal audit will be carried out for each enterprise in order to evaluate the compliance of the  established EnMS with the ISO 50001 benchmark. This step will allow the enterprises to prepare for the certification audit.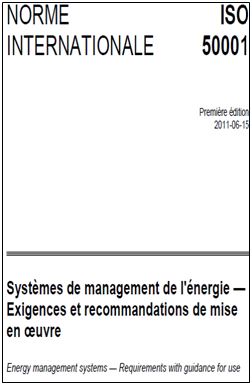 Responsible staff: Experts specialized in ISO 50001 EnMS.

Deliverables:
• Energy diagnostic report,
• Course support to the training sessions,
• A detailed report of every intervention,
• Intermediary and final evaluation reports,
• Internal audit reports.

Implementation period: 9 to 12 months.